I've had the opportunity to travel a bit in my time; and because Australians are food snobs, I've used the opportunity to sample what the locals eat.
I'll put down two memorable meals.
The first was in Amsterdam. On my last day there, I opened up my Lonely Planet guide book, flicked past the hoity-toity restaurant recommendations and Argentinian steakhouses and the Indonesian Fusion, went down to the Hotel Amsterdam De Roode Leeuw, and ordered myself some Stamppot.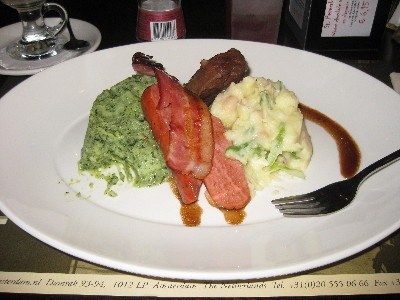 Shh.
Listen.
Listen closely.
Do you hear a faint popping sound?
That's the sound of a whole bunch of Dutch minds being blown.
The meal was memorable, because my Dutch waiter at the Red Lion Hotel had the selfsame reaction. He just could not even about the fact that an obvious tourist was chowing down with some Dutch comfort food. The kind of Dutch comfort food, he told me, you go skating across frozen lakes with.
Oh, what did it taste like? Stodgy. Filling. Reassuring. The kind of Dutch comfort food you go skating across frozen lakes with.
(This was my account at the time: Fine Dining In Amsterdam)
---
The second memorable meal was in Kadıköy, a hip suburb of Istanbul, where my wife's cousin lives. We tried to pay her a visit one evening while we were in Istanbul for our honeymoon.
Getting the brand new Marmaray metro under the Bosphorus, from Sultanahmet to Üsküdar, was a seven-minute breeze, even if the subway was congested. The next three hours, not so much: waiting half an hour to get a cab, discovering that no cab drivers in Turkey speak English, being stuck in traffic for an hour, being dumped at the start of Kadıköy 'cause "just walk down a bit, you can't miss it", missing it, finding that none of the hip young things lounging around Kadıköy cafés speak English either, realising we had the wrong number for Tamar's cousin, finding an Internet café so we could Facebook a red alert to Telma, having a generous lounger walk us for another half hour in the dark to the address (without any English)…
Oh, distance of Üsküdar to Kadıköy? 11 km.
It was way past 9 by the time we got to Telma's. Telma, her husband, her newborn, all had grand plans on entertaining us, and sadly, we'd plain gotten there too late. They had to settle for the local kebab joint: KASSAB.
I asseverate to you, by all that is pure and righteous on this good Earth.
That was the best meat I have had the privilege of eating in all my days in this Vale of Tears.
(The Wagyu steak I had on the weekend comes close, but the Wagyu steak just had divine texture, like an oyster that kept on looping. This meat had spice and punch and character.)
Kaleidoscope yet good honest flavours—familiar from Greece, but with a bunch of twists I hadn't expected; knock-out firewater; newly met family; casual friendly owners; neighbourly chow-down. It doesn't get better. It truly doesn't.