I am unable to shut up about the songs I love from Greece. There was a while last month when that was all I could write about.
… So, what to do, what to do…
Can I have Crete proclaim independence? We have our own Lone Star Flag at the ready, and everything: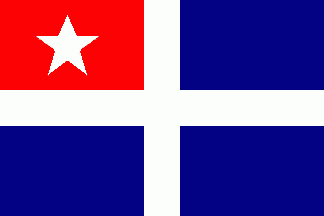 No? Well, some of my beloved songs from Crete anyway.
Song 1
Already posted here: Alas I'm forty by Nick Nicholas on Opɯdʒɯlɯklɑr In Exile
Song 2
One from the Muslim Cretan tradition (tabahaniotiko), that somehow ended up staying behind after the Muslims were expelled, and whose title is now painfully topical.
It is now sung to these couplets:
Τα βάσανα μου χαίρομαι, τσι πίκρες μου γλεντίζω,
κι αν με ρωτάτε για χαρές, εγώ δε τσι γνωρίζω
I rejoice in my torments, I celebrate my bitterness.
And if you ask me about joys—I know them not.
I've posted about this song a fair bit at Authenticities and Cretan Musics. Here's a recent performance, of the expansive, dramatic style I love:
And here's six versions of the song, Turkish, Rebetiko, and Cretan:
The traditional name of the tune? Khalepianos Manes. The Aleppo Plaint.
Song 3
Stars, scold me not.
Stars, scold me not, for singing late at night.
My heart did ache (my tall brunette), so I came out and spoke.
I'll tell the stars my pain: they'll keep their secret.
The stars will wait (look how you've left me!), and hear me out for hours.
Song 4
Ok, not song, but dance. The pidikhtos, the Jumping dance.
Crete does not do joyful. It does manic. And it does it like this:
Song 5
Why Crete does manic and not joyful. Because its de facto Subnational Anthem is a song about killing everyone in your rival clan.
When will it be a starry February night.
When will it be a starry February night,
so I can take my gun, that fairest matron,
down to Omalos, and the Mousouros' road:
leave mothers without sons, wives without husbands,
and make young babies cry without their mothers:
crying at night for water, at dawn for milk,
crying at twilight for their poor dear mother.